ディナーショートコース*
1月21日(火) | 5:45 - 8:45 PM
SC1: Best Practices for Biotherapeutic Discovery and Development
( ショートコース1:生物学的製剤の創薬と開発のためのベストプラクティス )
This course provides insights on best practices and the most effective ways of working for biotherapeutics development at each stage from discovery to development. Important decision gates at each stage of development and key parameters for each gate will be described, and you will learn about common work packages that go into the development of biotherapeutics, including but not limited to processes and analytical data from in vivo and in vitro studies. The course will also discuss regulatory expectations and international standards for each of the work packages. The course will be interactive in nature, offering attendees the opportunity to gain insights relevant to issues they encounter during product development in their own operations.
Instructor:
Wasfi AlAzzam, PhD, CSO, TechnoPharmaSphere (TPS)
SC2: The Safety of Immunotherapy and ADCs: How to Mitigate Risk and Adverse Effects
( ショートコース2:免疫療法と抗体薬物複合体の安全性:リスクを低減し、効果を高めるための方策 )
This short course examines safety issues surrounding immunotherapies and particularly Antibody-Drug Conjugates in an intimate setting with two of the world's leading ADC experts. Following a review of current cancer immunotherapies in development, including CAR T cells, CD-3 T cell-based bispecifics, and immune checkpoint inhibitors and agonists, the safety of ADCs will be explored in depth. ADC design and translational strategies for safety risk mitigation will be discussed, along with conjugation, payload, and engineering impacts on the therapeutic window.
Instructors:
Rakesh Dixit, PhD, DABT, President & CEO, Bionavigen, LLC
George Octavian Badescu, PhD, Vice President, Scientific Affairs, Heidelberg Pharma AG
SC3: Structure-Based Optimization of Antibodies
( ショートコース3:構造ベースの抗体最適化 )
This 3-hour course offers a quick overview of the concepts, strategies, and tools of structure-based optimization of antibodies. This lecture will cover structure-based techniques to modulate affinity, create novel constructs (such as Fc-fusions, bispecifics, etc.), along with increasing the manufacturability of a biologic. The class is directed at scientists new to the industry, academic scientists, and career protein engineers wanting a quick overview about how structure can aid in guiding experimental design.
Instructor:
Traian Sulea, PhD, Principal Research Officer, Human Health Therapeutics, Biotechnology Research Institute, National Research Council Canada
SC4: Asset Reacquisition: Planning before Out-Licensing
( ショートコース4:資産の再取得:アウトライセンス実施前の計画立案 )
One goal of biotechnology companies is to get their asset independently developed for the clinic or to out-license their asset to a company with resources for the clinic. Early out-licensing can be/is a successful, but risky, strategy. Returns happen. The return of the asset seems disastrous; but depending on the circumstances for which it was returned and the relationship between the companies, the asset may be re-licensed with careful management.
Instructor:
Deb Harris, Managing Director, Industry Special Services, BDO USA LLP
SC5: Protein Aggregation: Mechanism, Characterization, and Consequences
( ショートコース5:タンパク質凝集:メカニズム、特性評価、帰結 )
Protein aggregation is recognized by regulatory agencies and the biopharmaceutical industry as a key quality attribute of biotherapeutics. Various aggregates hold the potential for adversely impacting production and patients in a variety of ways. This in-depth course reviews the origins and consequences of aggregation in biotherapeutics, and then examines strategies for predicting and quantifying aggregation in biopharmaceuticals. It benefits scientists engaged in the development, production, analytical characterization, and approval of biotherapeutics, and those who require a good working knowledge of protein aggregation.
Instructors:
Thomas Laue, PhD, Professor Emeritus, Biochemistry and Molecular Biology; Director, Biomolecular Interaction Technologies Center (BITC), University of New Hampshire
Kevin Mattison, PhD, Principal Scientist, Malvern Pananalytical, Inc.
SC6: Assembling an Effective Toolbox of Expression Systems to Support Your Drug Discovery Efforts
( ショートコース6:創薬の取り組みを支える発現系の効果的なツールボックスの構成 )
This course will discuss the systems necessary to support the expression of both traditional (mAbs) and next-generation formats of proteins to support all aspects of drug discovery. This includes therapeutic candidates, assay reagents, immunogens, and proteins for structural studies.
Instructors:
Richard Altman, Field Application Scientist, Protein Expression, Biosciences Division, Life Sciences Solutions Group, Thermo Fisher Scientific
Henry C. Chiou, PhD, Director, Cell Biology, Life Science Solutions, Thermo Fisher Scientific
Dominic Esposito, PhD, Director, Protein Expression Laboratory, Frederick National Laboratory for Cancer Research
*別途参加登録が必要です。
* 不測の事態により、事前の予告なしにプログラムが変更される場合があります。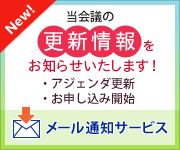 2019/12/10
アジェンダ・スポンサー更新
2019/11/26
アジェンダ・スポンサー更新
2019/11/14
アジェンダ更新
2019/11/06
スポンサー更新
2019/10/15
講演者・スポンサー更新
2019/09/25
アジェンダ・スポンサー更新
2019/08/23
スポンサー更新
---
---