Cambridge EnerTech's
Lithium-Ion Battery Chemistries

( リチウムイオン電池の化学技術 )
原材料と電池化学分野の新たな進歩
2019年10月29日~30日
リチウムイオン電池の化学技術をテーマにしたこのカンファレンスプログラムでは、企業や政府機関、研究機関に所属する主要な研究者や技術者、材料の研究開発に携わっている専門職などが一堂に会し、電池化学分野で現在直面している課題や画期的な成果について議論します。会期中は、電極と電解質で用いられる化学技術の進歩に光を当てるケーススタディが発表され、リチウムイオン電池の化学技術、リチウム技術の経済的な価値などをめぐっても議論が展開されます。今度の会議では、リチウム金属電池、リチウム/硫黄電池、リチウム空気電池、ナトリウム電池、マグネシウム電池、カルシウムイオン電池が焦点となる予定であり、リチウムイオン電池で用いられている多様な化学技術や今後実用化されると見られる新たな化学技術についての示唆に富む見解を聞くことができます。
Final Agenda
Day 1 | Day 2
10月29日(火)
8:00 登録手続き、コーヒー
電解質の分野における進歩
9:00 議長による開会の挨拶
Martin Winter, PhD, Chair, Applied Material Science for Energy Conversion and Storage, MEET Battery, Research Center, Institute of Physical Chemistry, University of Muenster
9:05 液体から固体へ:リチウム電池に対応する高導電性電解質
Andreas Hintennach, PhD, Professor, Research HV Battery Systems, Daimler AG
Novel and sustainable electroactive materials can help to decrease the ecological impact of novel battery concepts soon. While on the one hand, high energy density is required, the aspects of safety and lifetime get more important and often mean a challenge. All these requirements are met by very different approaches with different characteristics: all solid-state cells, high-energy materials, lithium-sulfur, and even different systems, e.g., Na- or Mg-ion.
9:55 Advanced High-Ni Cathode Materials for xEV Applications
Young-Min Choi, PhD, Senior Research Fellow & Vice President, Advanced Materials R&D, LG Chem
High-capacity nickel-based cathode materials have become the principal candidates for a lithium–ion energy storage system powering electrified transportation units. With the aim of achieving high capacity with satisfactory battery lifetime, stabilization of the nickel-based cathode has become a globally competitive topic. In this talk, we will discuss a range of the nickel-rich layered oxides, starting from commercially available and currently used materials to promising novel materials that may be commercialized in the future. Fundamental properties, opportunities, challenges, and latest progress of high-Ni cathode materials research will be discussed.
10:20 休憩、展示会とポスター発表の見学
カソードの材料
10:50 eLNO®: 安定性と安全性を高める次世代の高エネルギー低コバルトカソード材料
Eva-Maria Hammer, PhD, Product Innovation Manager, Battery Materials, Johnson Matthey
Through materials and process engineering, JM has brought a world-leading high-nickel, low-cobalt offering to the market: eLNO. JM's rapid customisation model continues to push the energy, stability, and safety performance of these materials even higher, whilst further reducing cobalt content. In this talk, we aim to demonstrate the competitive advantage of eLNO and provide an insight into JM's strength of developing and tailoring material performance for the fast-paced automotive industry.
11:15 演題は未定です
Michael Kruft, PhD, Director, Research and Development, Umicore
11:40 リチウムイオン電池で用いられるフッ素重合体Kynar® - カソードとセパレーターのコーティングのための溶液
Thomas Fine, PhD, Global Market Manager – Battery, Technical Polymers, Arkema SA
Today Kynar Battery Solutions are represented by two flagship ranges – Kynar HSV electrode binder resins and Kynarflex LBG separator coating resins. During this presentation, Arkema will highlight its latest innovation in these two product lines to meet the always more demanding requirements in terms of performance and safety.
12:05 スポンサー提供のプレゼンテーション (受付中)
12:30 質疑応答
12:50 ネットワーキングランチ
13:45 展示会ホールでの休憩、ポスター発表の見学
14:15 議長の発言
Martin Winter, PhD, Chair, Applied Material Science for Energy Conversion and Storage, MEET Battery, Research Center, Institute of Physical Chemistry, University of Muenster
14:20 From Lithium Metal Powder to High Energy Batteries
Adam Best, PhD, Principal Research Scientist & Research Grp Leader, Metal Industries, CSIRO Manufacturing
In order to enable higher energy batteries lithium metal is a key requirement for the anode. At present, there are a number of challenges to produce Lithium metal sustainably whilst ensuring that Lithium metal foils used in devices do not turn dendritic on continuous cycling. This presentation will address both of these topics and describe innovations which are being developed at CSIRO Australia.
14:45 全固体電池のための硫化物ガラス電解質とガラスセラミック電解質
Atsushi Sakuda, Assistant Professor, Applied Chemistry, Osaka Prefecture University
The most important component of all-solid-state batteries is a solid electrolyte. Some solid electrolytes have demonstrated lithium-ion conductivities of over 10-2 S cm-1, which is greater than in conventional liquid electrolytes. In addition to the conductivity, understanding the mechanical properties and chemical stability in humid conditions is important to battery manufacturing and for long-term reliability. Our recent research on those properties of sulfide glass and glass-ceramic electrolytes will be introduced.
15:10 展示会ホールでの休憩、ポスター発表の見学
固体電池
15:50 ロールツーロールプロセスを利用して製造される大型全固体電池の進歩
Doug Campbell, CEO, Solid Power
All-solid-state batteries (ASSB) have significant potential for providing greater energy and safety as compared to conventional lithium-ion batteries. However, one area of concern is manufacturability and associated costs for ASSBs. In 2019, Solid Power installed its first automated, roll-to-roll production line in order to achieve higher-quality ASSBs and at volume. Solid Power's talk will provide an overview of Solid Power's manufacturing approach, as well as preliminary performance data on ASSB cells produced using its small volume production line.
16:15 演題は未定です
Yong-Gun Lee, PhD, Samsung Electronics
16:40 炭酸塩ベースの電解質による長期の充放電サイクルを実現するリチウム金属表面の開発
Dee Strand, PhD, CSO, Wildcat Discovery Technologies
Significant progress towards the passivation of Li metal anodes must occur before any of the anode's potential can fully be realized. To this end, Wildcat Discovery Technologies has developed both in situ and ex situ surface passivation methods for lithium metal to significantly boost the cycling performance of lithium metal batteries. We will show investigation of passivation materials in combination with a variety of electrolyte compositions.
17:05 スポンサー提供のプレゼンテーション (受付中)
17:55 質疑応答
18:15 プログラム1日目終了
Day 1 | Day 2
18:15 チュートリアルの登録手続き*
18:30 - 20:45 チュートリアル5:シリコンベースのアノードによる電池のエネルギー密度向上
チュートリアル6:リチウムイオン電池の原材料市場:需給の見通しと値動き
*別途参加登録が必要です。
10月30日(水)
8:30 登録手続き、コーヒー
バインダーと材料
9:00 議長の発言
Martin Winter, PhD, Chair, Applied Material Science for Energy Conversion and Storage, MEET Battery, Research Center, Institute of Physical Chemistry, University of Muenster
9:05 リチウムイオン電池に対応する高機能導電性カーボンの開発
Shuichi Ishimoto, PhD, Section Manager of Advanced Material Group, Basic Research Center, R&D Headquarters, Nippon Chemi-Con Corp.
In order to enhance the cycle durability of Li-ion batteries (LIBs) for xEVs, we have developed a novel conductive carbon material called NH Carbon. The NH Carbon has a unique coating ability on the active materials' surface in both negative and positive electrodes. Therefore, the cycle life of LIBs with the NH Carbon can be improved drastically. In the presentation, we will introduce the feature, effectiveness, and mechanism of the NH Carbon.
9:30 高エネルギーリチウムイオン電池に対応する高機能バインダー
Tatsuo Horiba, PhD, Professor, Department of Applied Chemistry, Tokyo University of Science
We have been demonstrating that water-soluble binders provide better electrode performance than PVdF, which is due to uniformly dispersed electrode materials, sufficient coverage of active material surface, etc. Therefore, we named such binders "functional binders." We will present some results on functional binders for lithium-ion batteries, with their feature, performance and working mechanism, focused on sodium polyacrylate (PANa), polysaccharides, lithium poly-γ-glutamate (LiPGlu), and styrene-butadiene rubber (SBR)/sodium carboxymethylcellulose (CMC).
9:55 演題は未定です
10:20 展示会ホールでの休憩、ポスター発表の見学
10:50 高濃度電解質開発の進展と問題点
Akira Yamada, PhD, Professor, Toyko Institute of Technology
In the past few years, a major breakthrough in electrolyte materials was achieved by simply increasing the salt concentration in suitable salt/solvent combinations. This long-awaited, extremely simple, yet effective strategy can overcome most of the remaining hurdles limiting the present lithium-ion batteries without sacrificing manufacturing efficiency. I will try to provide timely information that will be valuable for designing more realistic batteries.
11:15 イオン液体を用いて設計された先進的な電解質を利用したシステムの安全性強化
Paul Homburger, Vice President, Business Development, NOHMS Technologies, Inc.
11:40 スポンサー提供のプレゼンテーション (受付中)
12:30 質疑応答
12:50 ネットワーキングランチ
13:45 展示会ホールでの休憩、ポスター発表の見学
14:15 プログラム終了
* 不測の事態により、事前の予告なしにプログラムが変更される場合があります。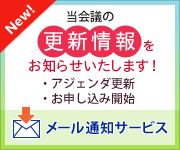 2019/08/07
アジェンダ・スポンサー更新
2019/07/26
スポンサー更新
2019/07/03
アジェンダ・スポンサー更新
2019/06/20
スポンサー更新
2019/06/06
スポンサー更新
2019/05/30
アジェンダ・スポンサー更新
---
---